Regular price
Sale price
£45.99 GBP
Unit price
per
Sale
Sold out
Share
The region of Cuyo in Mendoza, northwest Argentina in the foothills of the Andes, has a semi-arid climate with scarce vegetation, cold in winter and hot in summer, enhanced by the influence of the Andes, whose highest peaks soar closeby and provide the main source of irrigation. The pure snowmelt water feeds the main rivers of the region, which are used by a system of reservoirs and channels for the irrigation of crops and in our case, vineyards. Cuyo means "desert country" in the Huarpe Millcayac language of the native peoples. Cuyo boasts 95% of the total area planted to vine in the country which, added to its wine heritage and the high degree of development achieved by the industry, make it the most prolific region in South America and one of the most important worldwide. It is in Cuyo where the diverse character of Argentine viticulture becomes most evident. Soils here are heterogeneously alluvial with layers of fine sand and clay, poor in organic matter and with low fertility but possessing excellent drainage, resulting in wines that are fruity and floral with silky, elegant tannins. The Pulenta (originally Polenta) family are in their 4th generation of winemaking, starting back in 1902 with the arrival of Angelo and Palmina from Ancona in Italy. Over the century they have perfected their art and are now considered one of the finest producers in Argentina and beyond. Viticulture is a combination of sustainable and organic but certification is not the goal here. Vineyard health, soil preservation, environmental respect and the production of  terroir specific wines with Mendoza's unique touch are paramount to the Pulenta crew. The Gran Corte VII is a limited production blend of hand selected Malbec, Cabernet Sauvignon, Merlot, Petit Verdot and Tannat grapes fermented separately in stainless steel before blending and ageing in French oak for twelve months prior to bottling. This is a big wine, floral and full of bramble, black cherry, red fruits with a sleek and silky texture. It is smokily herbaceous with spices and notes of bitter chocolate on the finish. The altitude, up to 6500 feet above sea level for the highest vineyards, 3215 feet for these specific culprits (Ben Nevis is 4413 feet for comparison), preserves the acidity required to exquisitely balance this wine. And unsurprisingly, it pairs gloriously with robust BBQ'd red meats richly marinated and caramelised over smoking coals. Goddammit. Pass us that bottle will you. Remember, LIMITED PRODUCTION. Move swiftly. Sorry about the shouting but time is of the essence.
Country: Argentina
Region: Mendoza
Appellation: Lujan De Cujo
Variety: Cabernet Sauvignon, Malbec, and Merlot
Farming: Sustainable
Vintage: 2017
Is it Vegan? Yes
View full details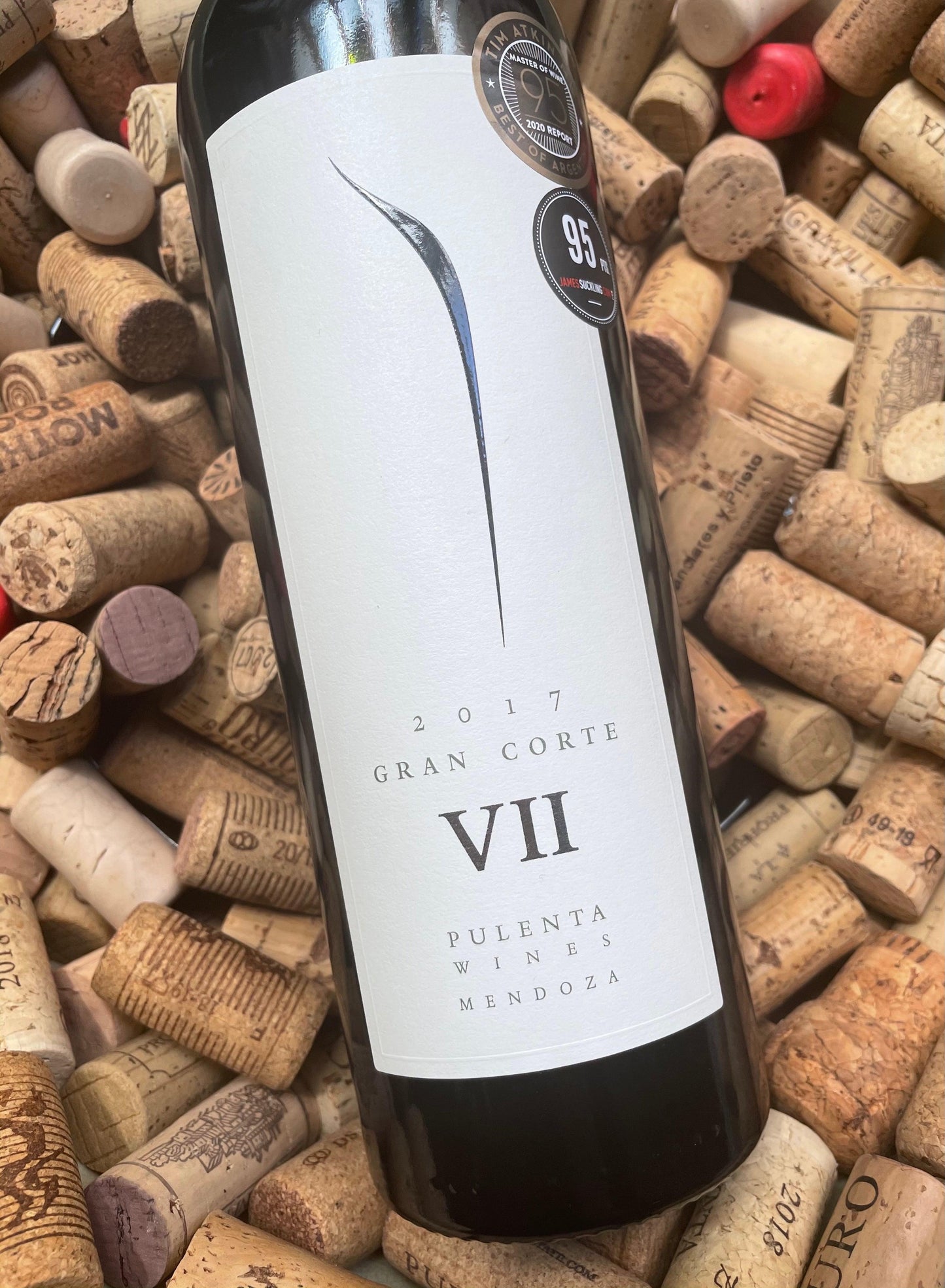 Some information about your order
Gift Wrapping & Notes

Please let us know if you would like a specific note included with your order. We tend to wrap all bottles in paper and reuse wine cases for shipping to keep our carbon footprint low.
Shipping Costs

Shipping should be automatically adjusted depending on your postcode. Free delivery covers all Liverpool postcodes, and the following Cheshire postcodes: CH41-49, CH60-63.

Find out more on our Deliveries page.
Delivery Times

We will look to have your delivery with you within 3 working days of receiving the order but please ask if you need it by a certain date and we'll do our best.
Vintages

We will endeavour to deliver vintages as advertised but they often change faster than we can update (we're pretty slow). So, again, it may be wise to confirm before ordering if you're in need of something particular. Please note: Some bottle images may not show the current vintage.
Surcharges

Surcharges often apply to deliveries outside mainland England so wise to confirm before you order. Indeed, Northern Ireland is beyond us unless shipping charges agreed beforehand.
Returns

If something is wrong with your order or it's not what you expected, please get in touch and we'll sort it out. We'll look to rectify any mistakes where possible.