Regular price
Sale price
£15.00 GBP
Unit price
per
Sale
Sold out
Share
Francisco Carrau is renowned for his research and work into wine fermentations and, in particular, unravelling the ideal fermentation conditions for Tannat. Having worked in his family's winery since he was a teenager, he has grown up in the wine industry steadily amassing great knowledge and experience to become one of Uruguay's most esteemed winemakers today. Possessor of a PhD in chemistry, Francisco spent decades researching soils, planting new vines, and spearheading the cultivation of native yeasts in Uruguay to express their true terroir. Francisco's daughter, Pia, is the force behind the Folklore line with minimal intervention, sustainability and low energy being key components of their production, not to mention a specially designed gravity-flow winery (built into a hillside to utilise Newton's favourite force to its full advantage), the command centre of which resembles a set straight from the Death Star. Bodega Cerro Chapeu is located in the Rivera district in the north of Uruguay and is characterised by vineyards on slopes and hillsides with deep red sandy soils and decomposed sandstone, with low organic content and offering excellent drainage. It has a continental climate with long hours of sunshine and dry seasons. So Folklore Blanco is a blend of 70/30 Trebbiano/Malvasia from vineyards 250m above sea level. The grapes are hand-picked, destemmed and pressed separately. Fermentation with native yeasts occurs over 6 months in stainless steel tanks with lees contact, prior to unfiltered bottling to keep manipulation to a minimum and preserve freshness. We've got you if you're a tropical, peachy, floral type. But you have to embrace a mineral glint, a grapefruit tang and a firm acidic vein. Imagine a bruised yellow apple on toast tossed somewhere in the mix. And for those wondering, the label is a local bird called a Seriema; highly carnivorous and can grow up to 3 feet tall. Perhaps like a more aggressive Roadrunner. Perhaps.
Country: Uruguay
Region: Rivera
Appellation: Cerro Chapeu
Variety: Trebbiano and Malvasia
Farming: Sustainable
Vintage: 2022
Is it Vegan? Yes
View full details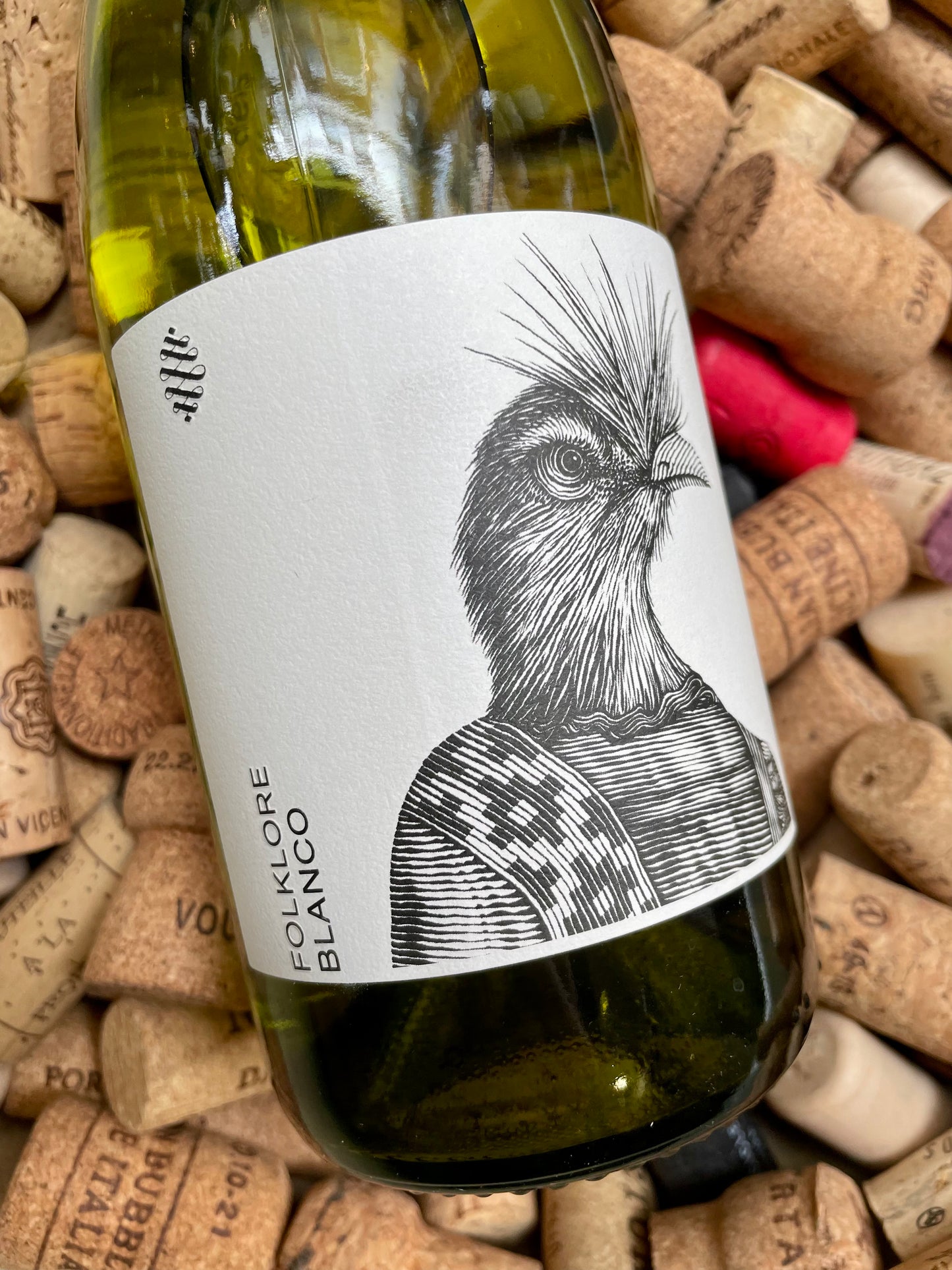 Some information about your order
Gift Wrapping & Notes

Please let us know if you would like a specific note included with your order. We tend to wrap all bottles in paper and reuse wine cases for shipping to keep our carbon footprint low.
Shipping Costs

Shipping should be automatically adjusted depending on your postcode. Free delivery covers all Liverpool postcodes, and the following Cheshire postcodes: CH41-49, CH60-63.

Find out more on our Deliveries page.
Delivery Times

We will look to have your delivery with you within 3 working days of receiving the order but please ask if you need it by a certain date and we'll do our best.
Vintages

We will endeavour to deliver vintages as advertised but they often change faster than we can update (we're pretty slow). So, again, it may be wise to confirm before ordering if you're in need of something particular. Please note: Some bottle images may not show the current vintage.
Surcharges

Surcharges often apply to deliveries outside mainland England so wise to confirm before you order. Indeed, Northern Ireland is beyond us unless shipping charges agreed beforehand.
Returns

If something is wrong with your order or it's not what you expected, please get in touch and we'll sort it out. We'll look to rectify any mistakes where possible.