Regular price
Sale price
£12.99 GBP
Unit price
per
Sale
Sold out
Share
What is Vinho Verde? It is not a grape variety but a DOC for the production of wine. The name means "green wine" but translates as "young wine" with wines usually being released three to six months after being harvested. It is Portugal's largest wine region stretching from the Spanish border and the Minho river in the north, the Atlantic ocean in the west, the Peneda, Gerês, Cabreira and Marão mountain ranges in the east and the Douro river, Freita, Arada and Montemuro mountains in the south. It is the only wine region in the world not named after a place. Most of the soils are heterogeneously granitic with a couple of rogue strips of carboniferous shale and schist running from the southeast to the northwest. Temperatures are mild, fluctuating with the amount of rainfall, 1200mm being a yearly average. The region's landscape is characterised by a dense but irregular network of valleys connected to the waterways, increasing as you head further inland. And that's a wee snapshot of Vinho Verde. And that's the region behind Chin Chin, ably assisted by Antonio Monteiro and his Quinta do Ermízio. Minimalist winemaking, zero wood, terroir respect and wines allowed to reflect and honour the grape, soil and climate are key principles to Monteiro. Chin Chin, born from this, has achieved a huge UK following and somewhat of a cult status becoming a go to summer quaffer. What does it bring to the party? Immense refreshment, a delicate spritz, bone dry, zesty brightness and a saline slice of pear and nectarine. Truly a wine where one bottle is never enough. And it sports a pretty impressive label. And it's very, very drinkable. And it's great value. Get it before it sells out, because it will. Guaranteed.
Country: Portugal
Region: Vinho Verde
Appellation:
Variety: Louriero, Arinto, and Trajadura
Farming: Sustainable
Vintage: 2021
Is it Vegan? Yes
View full details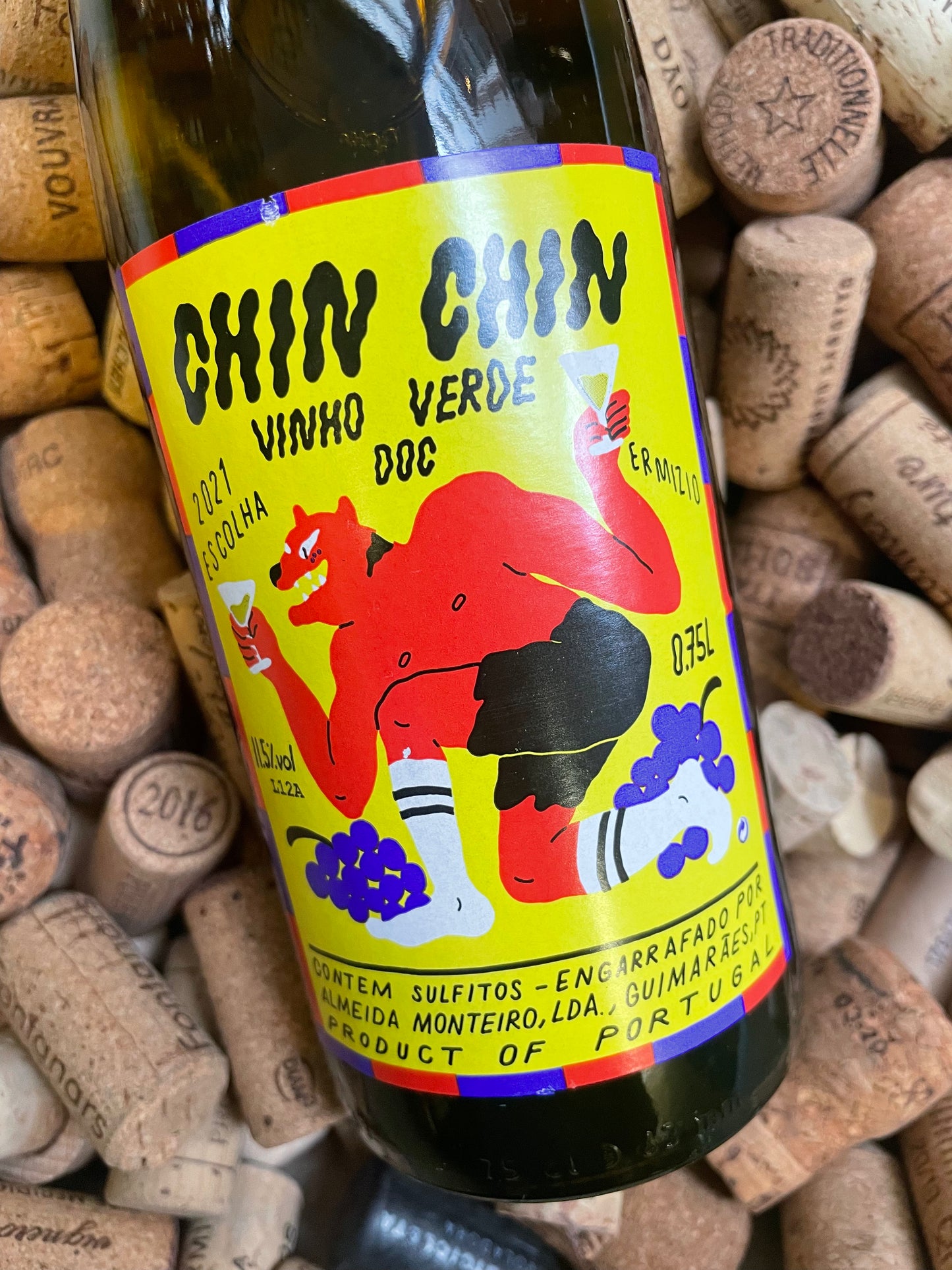 Some information about your order
Gift Wrapping & Notes

Please let us know if you would like a specific note included with your order. We tend to wrap all bottles in paper and reuse wine cases for shipping to keep our carbon footprint low.
Shipping Costs

Shipping should be automatically adjusted depending on your postcode. Free delivery covers all Liverpool postcodes, and the following Cheshire postcodes: CH41-49, CH60-63.

Find out more on our Deliveries page.
Delivery Times

We will look to have your delivery with you within 3 working days of receiving the order but please ask if you need it by a certain date and we'll do our best.
Vintages

We will endeavour to deliver vintages as advertised but they often change faster than we can update (we're pretty slow). So, again, it may be wise to confirm before ordering if you're in need of something particular. Please note: Some bottle images may not show the current vintage.
Surcharges

Surcharges often apply to deliveries outside mainland England so wise to confirm before you order. Indeed, Northern Ireland is beyond us unless shipping charges agreed beforehand.
Returns

If something is wrong with your order or it's not what you expected, please get in touch and we'll sort it out. We'll look to rectify any mistakes where possible.