Regular price
Sale price
£15.99 GBP
Unit price
per
Sale
Sold out
Share
The Côtes du Frontonnais is a unique winemaking region located on the left bank of the Tarn river roughly 20 miles north of Toulouse. Primarily flat with occasional small hills and odd slopes, the soil is composed of ice-age deposits and topped with alluvial and rougeot gravel and stones. Rougeot is a type of limestone-based soil that is rich in clay and iron oxide, giving it a distinctive reddish colour. Rougeot soil is often found on hillsides and slopes, and it is known for its excellent drainage properties, which allows the roots of grape vines to penetrate deep into the soil to access the nutrients and minerals they need to grow. It is a feature that imparts just a little "je ne sais quoi". The Burgundians are very fond of it. But back to Domaine Le Roc (actually used to be called Chateau Le Roc but as no chateau had ever been on the site, the powers that be vetoed this name and Domaine Le Roc, or just Le Roc it became), where their signature grape is the little known, local variety, Negrette. It is a challenging grape variety to grow, as it is susceptible to disease and requires careful vineyard management. However, when grown successfully, it can produce wines of exceptional quality. Negrette is often blended with other grape varieties, such as Syrah and Cabernet Franc, to produce wines with greater complexity and structure. It is also used to make rosé wines, which are known for their light and refreshing character. Negrette is an important grape variety in the southwest of France, and it is highly valued for the unique and distinctive wines that it produces. But back to Le Roc, again. For more than 30 years, the Ribes family has championed Negrette which is now the emblem of the domaine with organically responsible farming practised with techniques following traditional country "common sense". Jean-Luc strives for his grapes to be picked at perfect ripeness to obtain wines incomparably fruity, generous and authentic. Le Roc Ambulle is a lively yet delicate sparkling wine with a very pleasingly sweet and perfumed aroma of red fruits before the palate reinforces this and gives you a nice, crisp strawberry and cherry slap. The low tannins make it perfectly clean and immediate with the priority being to drink it well chilled with some good sun drenching going on. Limited production too. Sorry about that. Swift action does pay dividends however. 
Country: France
Region: Fronton
Appellation:
Variety: Negrette
Farming: Organic Practices
Vintage:
Is it Vegan? Yes
View full details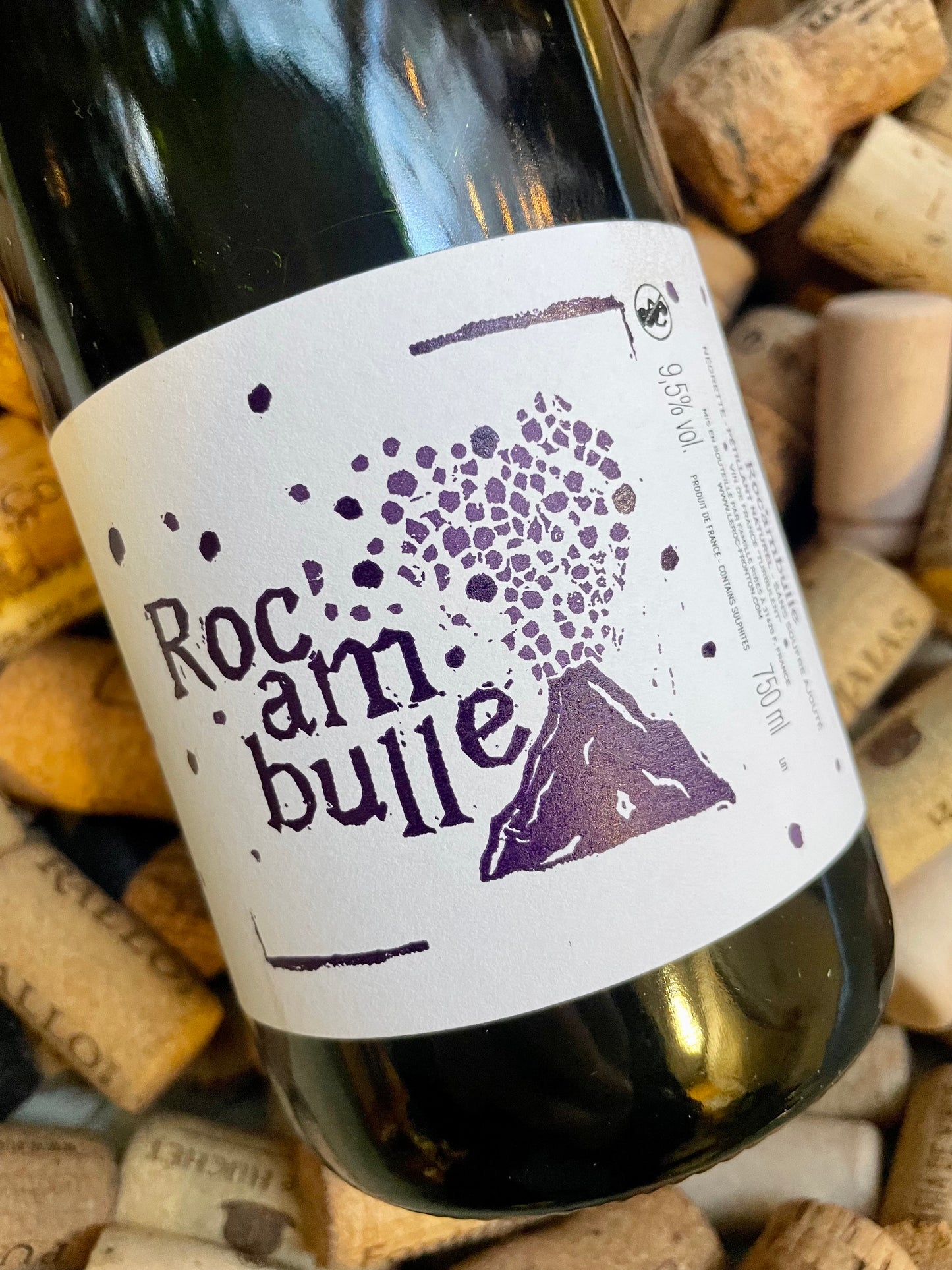 Some information about your order
Gift Wrapping & Notes

Please let us know if you would like a specific note included with your order. We tend to wrap all bottles in paper and reuse wine cases for shipping to keep our carbon footprint low.
Shipping Costs

Shipping should be automatically adjusted depending on your postcode. Free delivery covers all Liverpool postcodes, and the following Cheshire postcodes: CH41-49, CH60-63.

Find out more on our Deliveries page.
Delivery Times

We will look to have your delivery with you within 3 working days of receiving the order but please ask if you need it by a certain date and we'll do our best.
Vintages

We will endeavour to deliver vintages as advertised but they often change faster than we can update (we're pretty slow). So, again, it may be wise to confirm before ordering if you're in need of something particular. Please note: Some bottle images may not show the current vintage.
Surcharges

Surcharges often apply to deliveries outside mainland England so wise to confirm before you order. Indeed, Northern Ireland is beyond us unless shipping charges agreed beforehand.
Returns

If something is wrong with your order or it's not what you expected, please get in touch and we'll sort it out. We'll look to rectify any mistakes where possible.