Regular price
Sale price
£43.00 GBP
Unit price
per
Sale
Sold out
Share
La Soufrandière, the estate of Bret Brothers Jean-Philippe and Jean-Guillame, has a series of "Zen" versions of multiple cuvées, reaffirming their already impressive environmental credentials. The La Soufrandière estate was certified organic and biodynamic in 2006 and continues to impress both customers and contemporaries alike with their dedication to nature and the unarguable quality of their finished products. La Soufrandière is in Vinzelles, in the Macon region of southern Burgundy, with vines aged between 33 and 80 years old, east or southeast facing and growing at the top or halfway up slopes of red clay and crinoidal limestone (a type of limestone rock containing crinoid fossils. Crinoids were a common shallow water animal described as ancient "sea lilies" found in the Jurassic period). So the Zen? Basically no added sulphur till bottling and then only 20 mg/l, which is 0.02 of a ml. Pretty small amount. Non certified organic wines can contain as much as 210 mg/l. According to the brothers, the Zen wines are "more open, expressive and vibrate with an almost magical energy". Just for the record and to assuage curiosity, here are some examples of Bret Brothers' biodynamic preparations: matured cow dung for the soil, silica for the foliage and for healthy, balanced grapes infusions of horsetail, nettle, osier, dandelion or valerian. All guided by cosmic activity. Very fascinating and merely the tip of the biodynamic iceberg. This harmonious relationship between terroir, vines and vigneron and the overarching respect for nature shows in the La Soufrandière wines. La Bonnode Zen is 100% Chardonnay, hand harvested with the grapes gently pressed for 3 hours before a natural yeast fermentation in old oak. Malic acid is converted to lactic acid and the wine is aged for 17 months in barrels and tanks. The finished wine is neither fined nor filtered. A flurry of floral and orchard fruit aromas strikes first before opening into a mist of citrus whizz. The pear and apple fruitiness is ripe and crunchy with gentle touches of smoky minerality. The acidic tang is wonderfully balanced drawing out a long, complex, slightly peppery finish. Got to hand it to these boys, Brothers Grim they certainly are not. And the Zen range is very, very limited edition. Strike while the iron is hot.  
Country: France
Region: Burgundy
Appellation: Saint-Veran
Variety: Chardonnay
Farming: Certified Organic and Biodynamic Practices
Vintage: 2021
Is it Vegan? Yes
View full details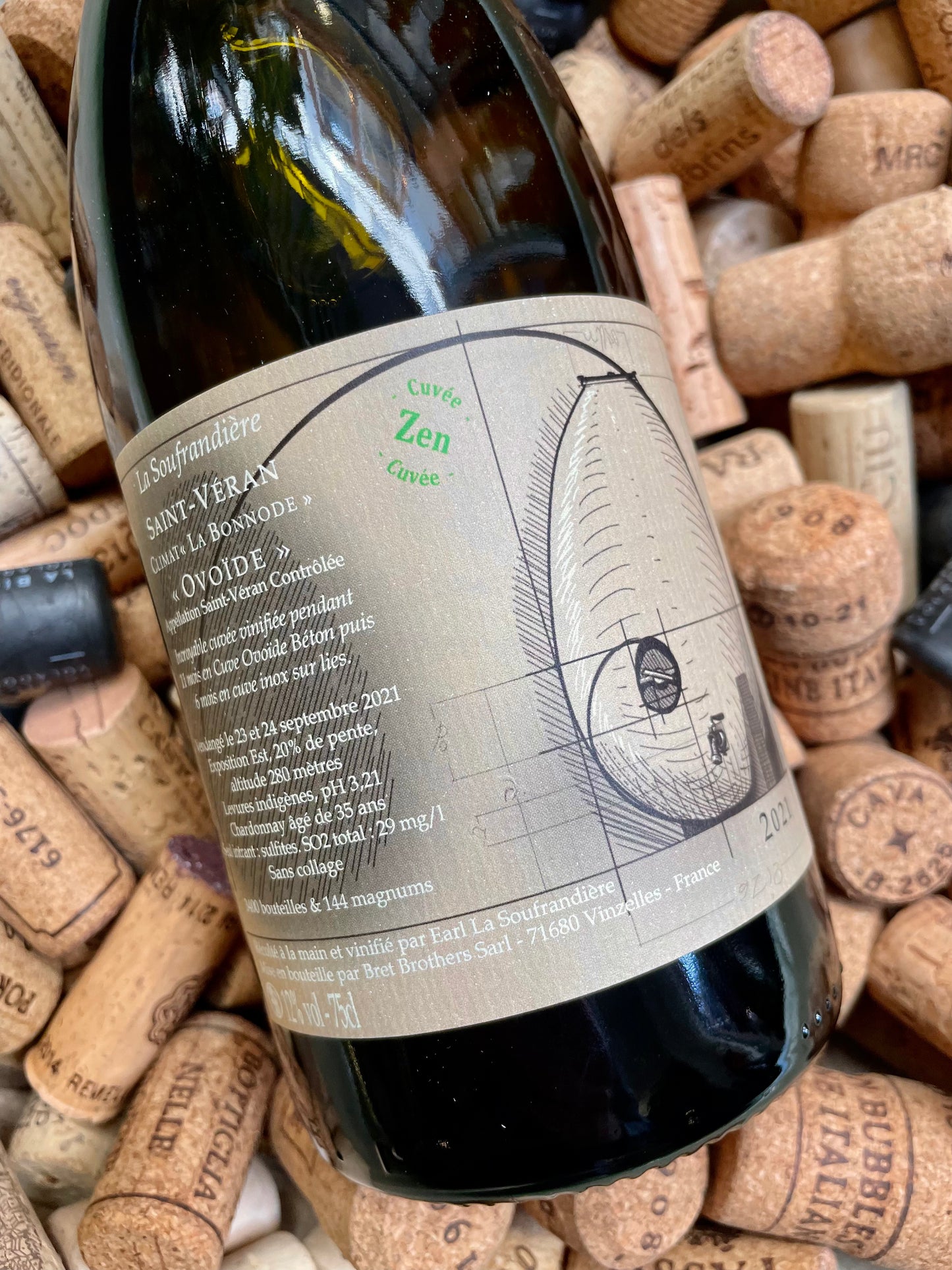 Some information about your order
Gift Wrapping & Notes

Please let us know if you would like a specific note included with your order. We tend to wrap all bottles in paper and reuse wine cases for shipping to keep our carbon footprint low.
Shipping Costs

Shipping should be automatically adjusted depending on your postcode. Free delivery covers all Liverpool postcodes, and the following Cheshire postcodes: CH41-49, CH60-63.

Find out more on our Deliveries page.
Delivery Times

We will look to have your delivery with you within 3 working days of receiving the order but please ask if you need it by a certain date and we'll do our best.
Vintages

We will endeavour to deliver vintages as advertised but they often change faster than we can update (we're pretty slow). So, again, it may be wise to confirm before ordering if you're in need of something particular. Please note: Some bottle images may not show the current vintage.
Surcharges

Surcharges often apply to deliveries outside mainland England so wise to confirm before you order. Indeed, Northern Ireland is beyond us unless shipping charges agreed beforehand.
Returns

If something is wrong with your order or it's not what you expected, please get in touch and we'll sort it out. We'll look to rectify any mistakes where possible.