Regular price
Sale price
£74.99 GBP
Unit price
per
Sale
Sold out
Share
Rene Rostaing has been a pivotal figure in the Côte-Rôtie over the past 40 years. He became a winemaker in '71 with barely half an acre each (basically a football pitch's worth) of La Landonne and Côte Blonde in the northern Rhone. For the next 2 decades, he established himself as one of the finest traditional winemakers in the region following both in his father in law's footsteps and his uncle's, Albert Dervieux and Marius Gentaz respectively. After Albert and Marius retired, Rene found himself at the helm of some priceless vineyards and the proprietor of one of the greatest domaines of the northern Rhone. Not a bad achievement. The Côte-Rôtie is subdivided into two main types of soil compositions, the Côte Brune in the north, on dark iron-rich schist and the Côte Blonde with its pale granite and schist soil. The vines are mostly planted on the south and south east facing slopes of the river to maximise sunshine and reduce the effect of the fogs as harvest approaches. Legend has it that the two subregions of the Côte-Rôtie, Côte Blonde and Côte Brune, were named after the blonde and brown hair coloured daughters of a local lord who had two very different personalities (dark and powerful and lithe and explosive) as a little aside, this reflects the differences in the wines from the two regions. Since 2015, Rene's son Pierre has taken charge and follows his fathers passion, dedication and reverence for the Côte-Rôtie's traditions. The flagship red, "Ampodium", is assembled from parcels throughout the Côte-Rôtie and exhibits the intense perfume, delicacy and power of pure Syrah. Dark, floral and peppery with sweet blackberry, herbs and olives. Silky, savoury and complex with years of ageing potential. Definitely worth experiencing one of the best Rhone's out. Legendary.
Country: France
Region: Côte-Rôtie and Northern Rhone
Appellation:
Variety: Syrah
Farming: Organic Practices
Vintage: 2019
Is it Vegan? Unknown
View full details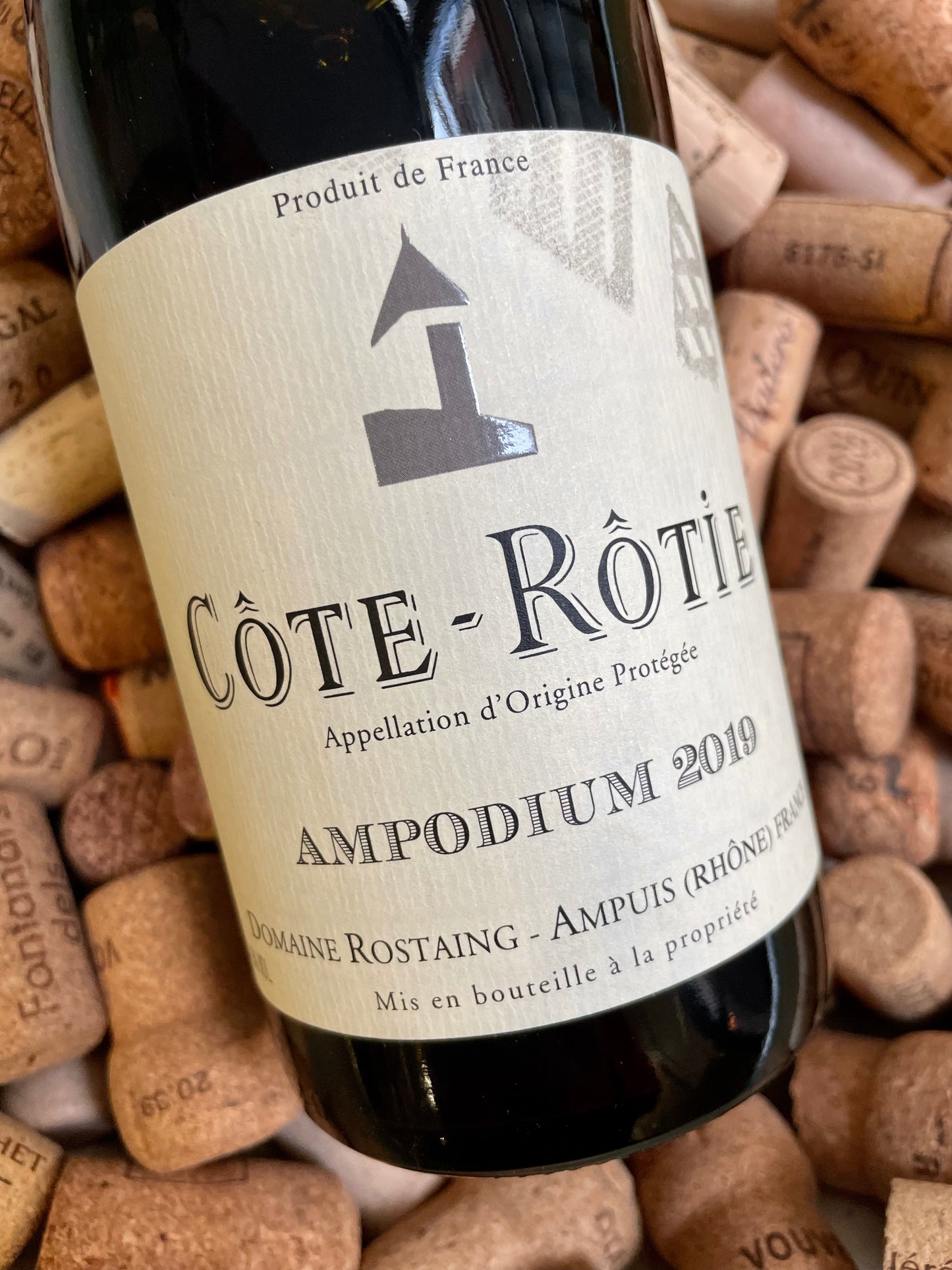 Some information about your order
Gift Wrapping & Notes

Please let us know if you would like a specific note included with your order. We tend to wrap all bottles in paper and reuse wine cases for shipping to keep our carbon footprint low.
Shipping Costs

Shipping should be automatically adjusted depending on your postcode. Free delivery covers all Liverpool postcodes, and the following Cheshire postcodes: CH41-49, CH60-63.

Find out more on our Deliveries page.
Delivery Times

We will look to have your delivery with you within 3 working days of receiving the order but please ask if you need it by a certain date and we'll do our best.
Vintages

We will endeavour to deliver vintages as advertised but they often change faster than we can update (we're pretty slow). So, again, it may be wise to confirm before ordering if you're in need of something particular. Please note: Some bottle images may not show the current vintage.
Surcharges

Surcharges often apply to deliveries outside mainland England so wise to confirm before you order. Indeed, Northern Ireland is beyond us unless shipping charges agreed beforehand.
Returns

If something is wrong with your order or it's not what you expected, please get in touch and we'll sort it out. We'll look to rectify any mistakes where possible.